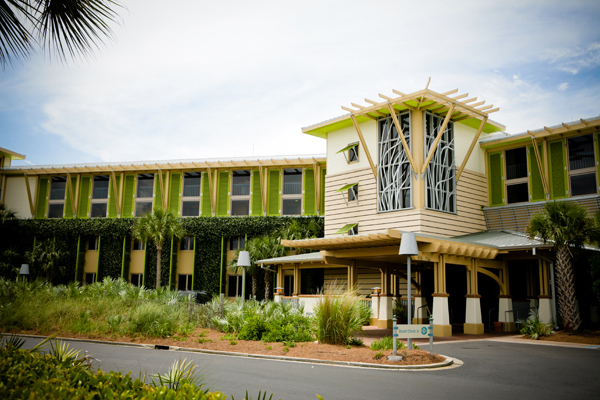 The Watercolor Inn
The Watercolor Inn is such a cool place to visit, the Inn is very trendy and it lies on one of the most incredible beaches in the State of Florida. The Inn overlooks the Gulf of Mexico and a soft sugar sand beach which is the perfect location for a wedding ceremony. The Inn can accomodate both small and large weddings with their large beachside lawn or selection of ballrooms for your wedding reception.
Finding the Watercolor Inn
The Watercolor Inn and Resort is located along the pristine beaches of south Walton County overlooking the Gulf of Mexico and directly on Scenic Highway 30A just east of Blue Mountain Beach and Santa Rosa Beach, Florida. It is an extraordinary resort and destination nestled along the emerald green waters and sugar white sand of Northwest Florida.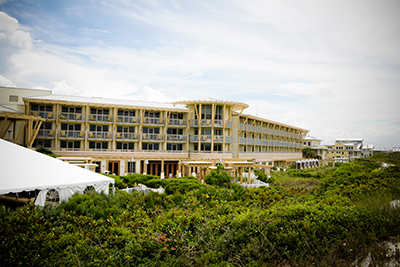 About the Watercolor Inn
From the time you walk in the door of the Watercolor Inn you will feel like you are in a tropical paradise. The Inn has such a comfortable feel and welcoming atmosphere, you will have no choice but to relax. This is the perfect place to spend time with your wedding guests. The Watercolor Inn is the primary beachfront fixture in the town of Watercolor. It overlooks the beach and has several pools to fit your preference for relaxation such as the adult (quiet) pool directly behind the hotel lounge, or the more active family pool located above the parking garage with views of the Gulf. Of course, you can always skip the pool altogether and just head down to the beach!
A Watercolor Inn Wedding
The WaterColor Inn is located on the Gulf of Mexico and wedding ceremonies can be held on the beach in front of the Inn. There is also a lawn adjacent to the Inn's pool called the Inn Green and it can be tented for wedding receptions. For smaller, intimate wedding receptions there is the main restaurant for the Watercolor Resort located next to the Watercolor Inn called the Fish Out of Water Restaurant which overlooks the Gulf of Mexico.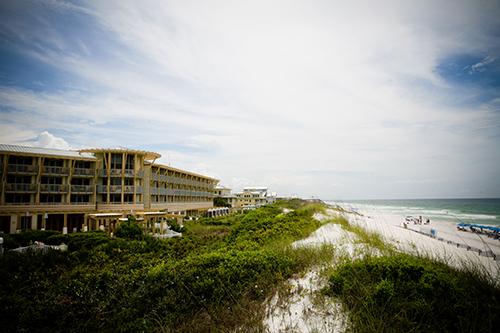 The Town of Watercolor
There is no other place along the Florida coast that compares to Watercolor, from the dragonfly gardens to the natural Florida wetlands along the walking and biking trails, to the perfect beaches. If you are looking for a beach wedding location, Watercolor should definately be near the top of your list. Our wedding photos show many recent weddings that we have photographed, some of which may be similar to what you are planning for your own wedding. If you would like information about our wedding photography services, you can always get in touch with us through our contact page.
Beach Wedding Locations
If you like the Watercolor Inn, here are a few other beach wedding locations you might be interested in: